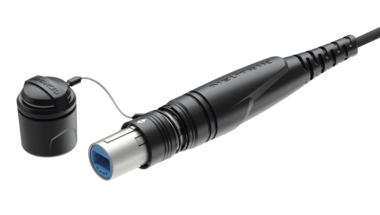 opticalCON DUO Cable
The opticalCON system is based on LC-Duplex connectors but eliminates its weakness and guarantees a safe, dust protected and rugged connection. Being compatible to conventional LC connectors the opticalCON DUO offers the choice of using cost effective LC cables or the rugged opticalCON cable assembly for mobile applications. The opticalCON DUO is the ideal solution for equipment connections and system integration offering LC compatibility on chassis connector front and rear.

The opticalCON DUO cable connector accommodates a standard optical LC-Duplex connector in a ruggedized and durable all-metal housing. It features a spring loaded push-pull locking mechanism and an excellent cable retention utilizing aramid yarn. The optical connection is exceptional well protected against dirt and dust by an automatically operated sealing cover.
The cable connector comes pre-assembled and is not available as a single component. The cable is available in different lengths and is packed either in a case, on drum or airspool.
6 Products